Our customers in Fraddon choose Steel Grey granite worktops for their kitchen. They loved the dark grey contemporary look of this granite.
Steel Grey granite is very consistent in it's appearance, large pieces of quartz are found in abundance amongst other smaller grains.
The dark grey is really set off against the white coloured kitchen units.
And the steel grey granite worktops blend well with the different shades of grey found within the floor covering.
In the photo below you will see where the worktops are joined
We created a sawn cut out for the hob.
The customers went with a dark grey sink which sits really nicely in the steel grey granite worktops.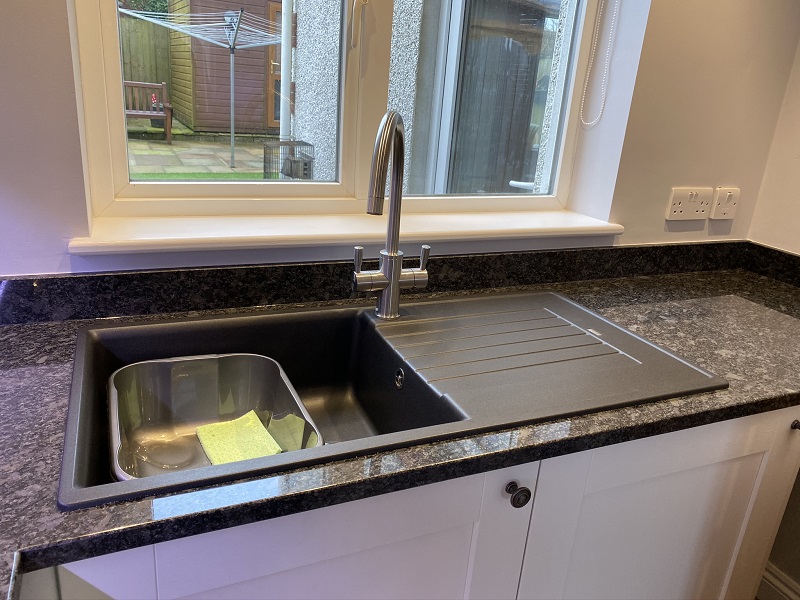 And to finish off we installed 80mm high upstands.
I'm sure you have probably read in many articles that granite will stain easily. And these statements are true, so we seal all of our granite worktops before they leave the workshop. We are certified applicators and stockists of Dry Treat Stain Proof, which is a micro porous sealant for natural stone and porcelain.
You can view all the necessary information on Dry Treats website here 
www.drytreat.com
Due to Dry Treats unique micro porous technology, the sealant actually lines the capillaries of the stone. So it sits within the stone rather than on top like the old surface sealers used to. This means that you don't have to re-seal your worktops every 6 to 12 months. You can go without re-sealing for many years.

A granite worktop is easy to clean and using hot soapy water is sufficient most of the time. But if you want to clean your worktop with a cleaning product, then it's best to use a Ph neutral product. And we recommend using Hanafin Rejuvenata, which we also stock.
To find out more about all the options available for your stone worktops click here – 
Granite & Quartz Worktops
Feel free to pop into see us at our showroom in Par near St Austell in Cornwall. We are open from Monday to Friday from 8 – 5 & on Saturdays from 9 – 2. Or ring us on 01726 814466.