If you're looking for a slate hearth then we have a great range for you to chose from. We offer a huge variety of different sizes & shapes.
From your standard 2 or 3 piece hearth. To long rectangular slate hearths.
If you require a slate hearth to accompany your beautiful fireplace. We do these too.
Or these…
And we also do the more contemporary slate hearths too.
If you don't want slate then we offer a huge range of other stone's. How about a granite hearth for a more contemporary style of fire place. The hearth below was fabricated out of steel grey granite. You'll notice we manufactured drop down mitred edges so the hearth looks like a large block of stone.
You may be looking for something a little different. Maybe a tear drop slate hearth or a hexagonal slate hearth. What about a fully circular slate hearth?
We supplied this circular slate hearth for customers in Tregony near Truro. Our first job is to cut the right sized pieces from a large slab.
The pieces then go on the CNC so we can router them to the correct shape.
Whilst the pieces are still on the CNC, the pencil round edge profile is created.
Each piece comes off the CNC and is finely finished by hand.
After fabrication we took the slate hearth on site and installed it for the customer.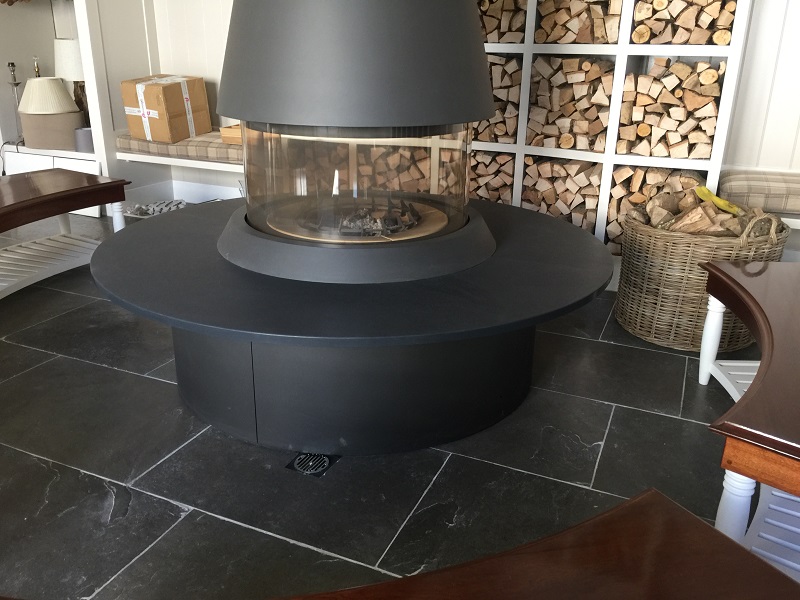 This fireplace is in the boot room of the house, and wonderful boot room it is. We used Italian slate for this hearth which is 30mm thick and has a honed finish.
We seal all of our stone products before they leave the factory, using Dry Treat Stain Proof. Dry Treat stainproof is a micro porous sealant for natural stone.
You can view all the necessary information on Dry Treats website here 
www.drytreat.com
Due to Dry Treats unique micro porous technology, the sealant actually lines the capillaries of the stone. So it sits within the stone rather than on top like the old surface sealers used to. This means that you don't have to re-seal your stone products every 6 to 12 months.

You can view all of the products & services we offer by visiting our website here –
Everything Stone
If you'd like to come and visit us at our showroom in Par near St Austell in Cornwall. We are open from Monday to Friday from 9 – 4 & on Saturdays from 9 – 2. Due to Covid we'd appreciate it if you can make an appointment before visiting. Ring us on 01726 814466.