I'm showcasing two bathrooms today which have used Neolith wall cladding and flooring. Neolith is a sintered stone, which uses 100% natural stone ingredients. Check out the Neolith website below.
The process to manufacture sintered stone starts in the quarry as you'd expect. But the quarried stone is crushed & ground into a powder. before being poured out on to a rectangular bed and compressed. The compressed slab is then baked at extreme temperatures. This process is carried out without the need for resins or bonding agents, and Neolith wall cladding has loads of benefits.
Neolith wall cladding is available is many different sizes and thickness. And it's the thin slabs, like the ones used in the bathrooms below that are perfect for tiling & wall cladding.
Estatuario was used as the main surface throughout this bathroom, 6mm thick & polished, close up below.
And the contrasting colour is called Nero Marquina, also polished, see below.
The two types of Neolith wall cladding create a contemporary, yet elegant ambience in the bathroom.
You will notice that the toilets & basin hang off the wall, and there are taps and sockets too. So lot's of cutting, but because the material is only 6mm thick, and there are no dangerous toxins when cutting this material. All slots and holes can be drilled/cut on site, meaning this is a fantastic user friendly product.
In the bathroom below, the stone used to compliment the Estatuario is called Pulpis. Its gentle, warm tones create a refined and sophisticated look, whilst also creating a relaxing atmosphere. see a close up of the Pulpis below.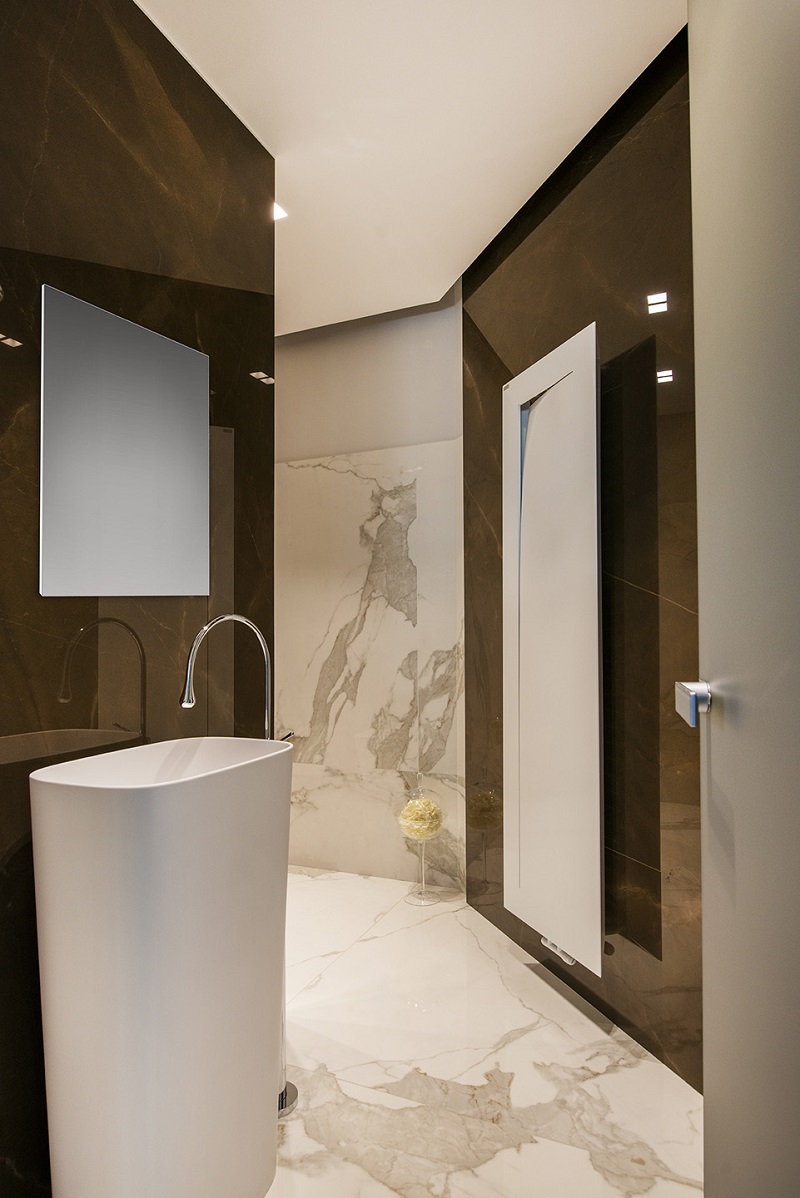 We would normally carry out surveys for this type of project just after the substrate boarding has been installed. Templates would be created for some areas.
And we would fabricate the large slabs at our workshop. So when the neolith wall cladding is brought to site, it's really simple to install.
Check out more similar projects here –
Bathroom Projects
If you would like to come and discuss this type of project with us. We're open on Monday to Friday from 8 – 5. And on Saturdays from 9 – 2. Tel: 01726 814466.