We were asked to supply, manufacture & install Limestone Copings on this project at Trevose Head in Cornwall. The architects on this project are called the
Bazeley Partnership
. Their sketch book image below shows how the house will look once completed.
And here we are on site.
Preparing to carry out a survey of the walls.
The design of the house has long radius curves, with some parapet walls requiring limestone copings. So our first job is to carry out a survey.
And we always use John Douglas for these types of surveys, click on his website below to find out more.
John sets up his surveying equipment, and surveys all relevant walls on site.
When John returns to his office he transfers the site data onto his CAD program.
And produces the working drawings we require back at our workshop.
At our workshop we then create our own files for our CNC machinery.
And start to manufacture the limestone copings.
Edge profiling as we go.
The final stage of works in our workshop is to seal the limestone copings before they go to site. I explain in more detail below what sealant we use.
On site we load out the limestone copings ready for installation.
When installing copings, you can't just start laying. Preparation is the key to success. There's a certain process that we always use to ensure a quality finish.
First we dry lay all copings, using plastic packers underneath each coping. And between each coping to create a nice even joint.
Making sure that we don't have any lippage from coping to coping is important. And you have to bear in mind that all walls undulate. No matter how good the mason is, packing is an important process. All limestone copings are laid on a bed of flexible white adhesive with a latex additive.
So there you have it, all limestone copings are now installed.
And ready to for the final edge profiling.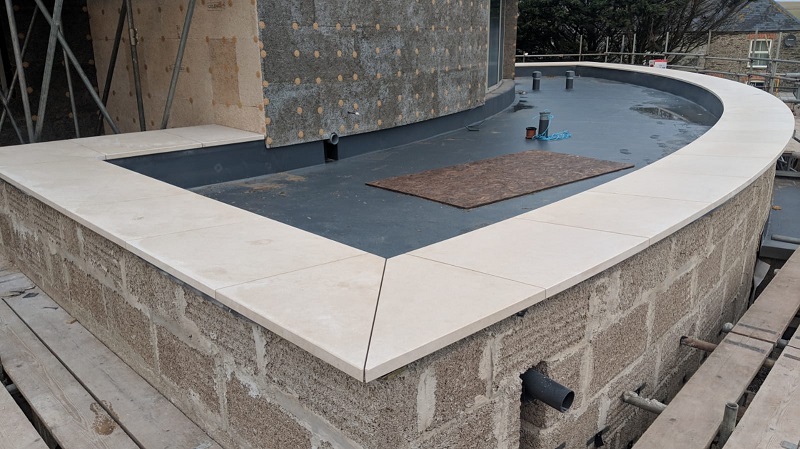 It's common practice to tweak the edge profile on site after the installation. Just to make sure the transition from coping to coping is perfect.
Then we prepare for the silicone.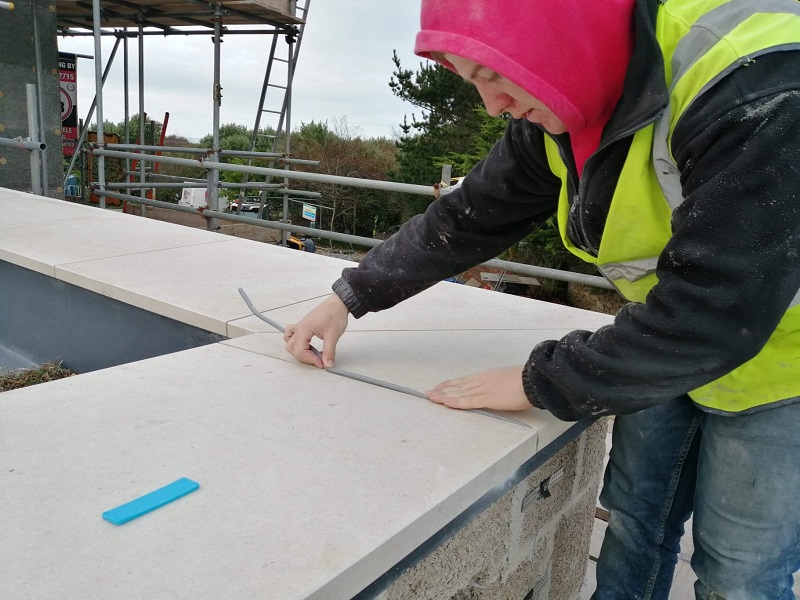 Ryan installs the flexible strips of sealant joint packer between the copings, which reduces sealant usage and improves sealant performance by allowing the correct joint dimensions.
Applying the silicone is an important job because it forms part of the weather proofing system for the parapet wall. We use a silicone called mapei LM silicone, which is perfect for natural stone. So Ryan is taking his time to make sure he produces a quality finish.
And there you have it.
Another Coping installation completed
As always we seal all of our granite coping stones and paving with Dry Treat Stain Proof.
You can view all the necessary information on Dry Treats website here 
www.drytreat.com
Due to Dry Treats unique micro porous technology, the sealant actually lines the capillaries of the stone. So it sits within the stone rather than on top like the old surface sealers used too. This means that you don't have to re-seal every 6 to 12 months. You can go without re-sealing for many years.

To find out more about our services click here –
Everything Stone
Or why not pop down to see us at Par near St Austell in Cornwall, where you can walk around our two external displays and get inspired.
We have over 40 natural stone patios on display along with loads of landscaping features.
Coping stones, step tread & riser sets, edgings, kerbs, gate posts & columns.
You can also view the latest in natural stone wall cladding systems with over 20 displays.
Perfect for those garden walls or feature walls.
Being able to see the products on display really helps you visualise your own project. And whilst your here looking at all the landscaping products, you can discuss your project with one of the Everything Stone team. We are open 6 days a week on Monday to Friday from 8 – 5 & on Saturdays from 8 – 2.