On this project in St Austell we designed, supplied & installed silver grey granite coping stones and paving around the swimming pool.
We carried out all the ground work and masonry work on this pool too. Concreting the swimming pool floor, building the walls, forming the channels & rendering. A crane was used to lift all the granite coping stones & paving to the work area as access was poor.
The copings were manufactured in a factory South of Shanghai in China, but we had to cut the odd one so they fit perfectly in situ.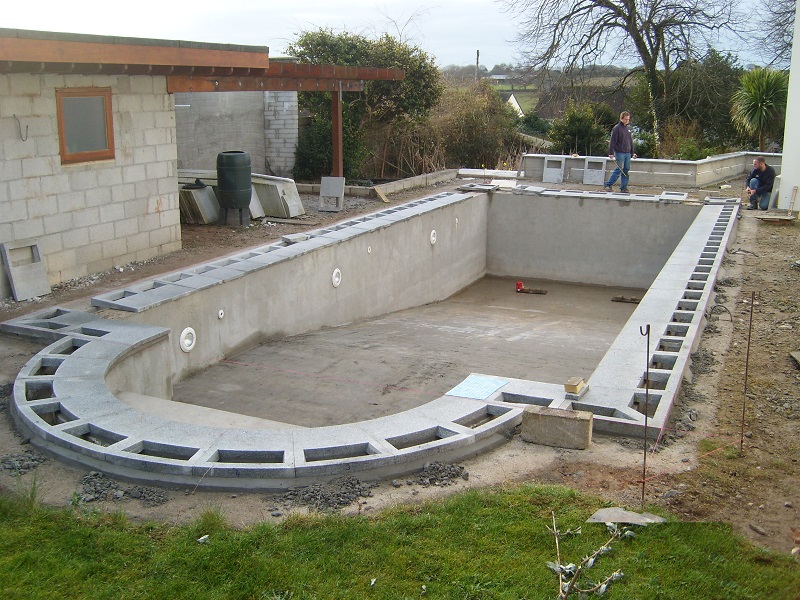 Once all the granite coping stones were fully installed we got on with some electrics.
Ross is preparing and installing the junction boxes for the swimming pool lights.
Each junction box and ducting is then set into position, ready for the paving installation.
These granite copings were designed with a removable lid.
Very simple design with slots on each side of the coping.
So water can trickle down each side of the coping and into the channel beneath.
At last! We can start tiling the pool, and we are using two shades of blue glass mosaic tiles.
Finishing the swimming pool was a great feeling as so much detail had gone into ever aspect of this project.
To see what other landscaping projects we have carried out click here –
Everything Stone Landscaping
As always we seal all of our granite coping stones and paving with Dry Treat Stain Proof.
You can view all the necessary information on Dry Treats website here 
www.drytreat.com
Due to Dry Treats unique micro porous technology, the sealant actually lines the capillaries of the stone. So it sits within the stone rather than on top like the old surface sealers used too. This means that you don't have to re-seal every 6 to 12 months. You can go without re-sealing for many years.

At Everything Stone we don't just supply your landscaping products, we have been carrying out landscaping projects in Cornwall for many years. So why not pop down to see us at Par near St Austell in Cornwall where you can walk around our two external displays and get inspired.
We have over 40 natural stone patios on display along with loads of landscaping features.
Coping stones, step tread & riser sets, edgings, kerbs, gate posts & columns.
You can also view the latest in natural stone wall cladding systems with over 20 displays.
Perfect for those garden walls or feature walls.
Being able to see the products on display really helps you visualise your own landscaping project. And whilst your here looking at all the landscaping products, you can discuss your project with one of the Everything Stone team. We are open 6 days a week on Monday to Friday from 8 – 5 & on Saturdays from 8 – 2.