On this project in St Austell we designed, supplied & manufactured silver grey granite coping stones for around the swimming pool.
When the copings were brought to site, we had to cut the odd one so they fit perfectly in situ.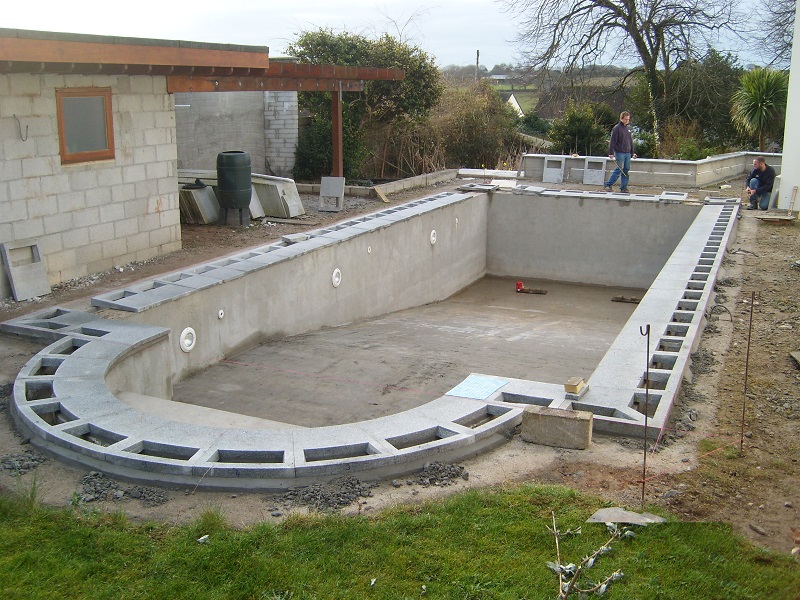 Once all the granite coping stones were fully installed, the electrical works were carried out.
Ross is preparing and installing the junction boxes for the swimming pool lights.
Each junction box and ducting is then set into position, ready for the paving installation.
These granite copings were designed with a removable lid.
A very simple design with slots on each side of the coping.
So water can trickle down each side of the coping and into the channel beneath.
At last! The tiling can begin.
Here's some finished photos of the pool.
To see similar products that we supply & manufacture click here –
Everything Stone
As always we seal all of our granite coping stones and paving with Dry Treat Stain Proof.
You can view all the necessary information on Dry Treats website here 
www.drytreat.com
Due to Dry Treats unique micro porous technology, the sealant actually lines the capillaries of the stone. So it sits within the stone rather than on top like the old surface sealers used too. This means that you don't have to re-seal every 6 to 12 months. You can go without re-sealing for many years.

You're more than welcome to pop in & see us. We are open 6 days a week on Monday to Friday from 8 – 5 & on Saturdays from 8 – 2.