Customers in Wadebridge, Cornwall, chose blue pearl granite worktops to go in their beautiful kitchen.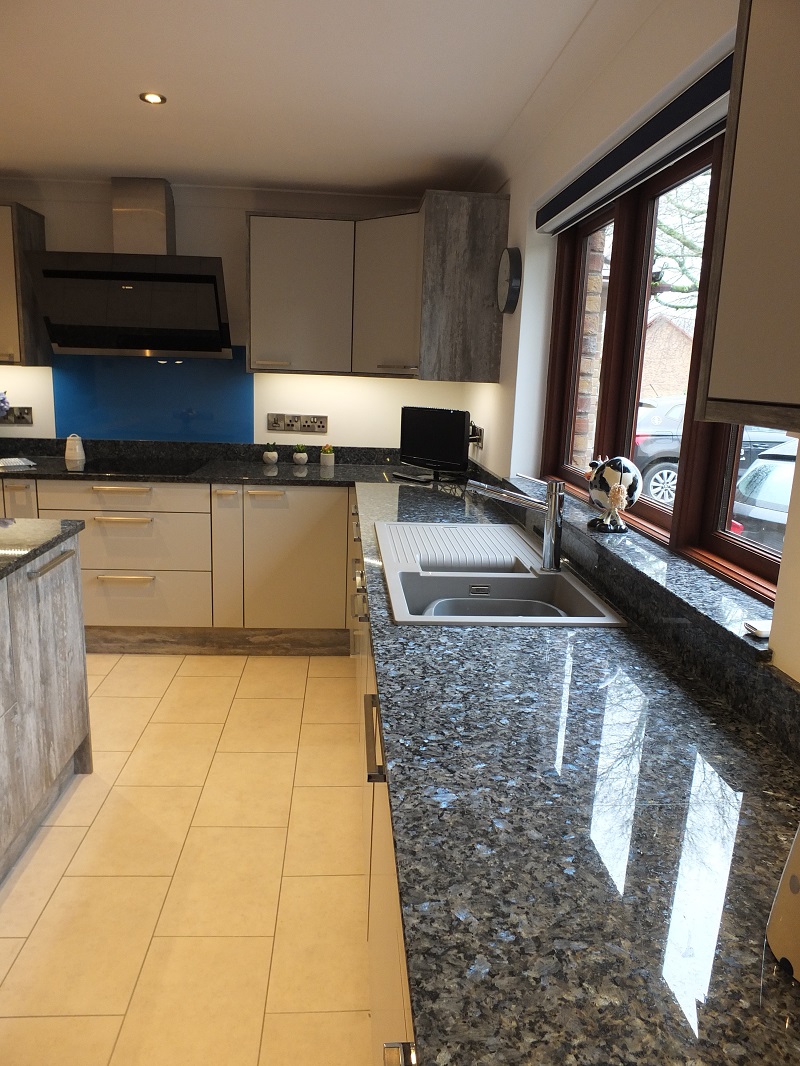 Blue pearl is a Norwegian granite and is one of the hardest granites on the planet. Characterised by its large blue, pearly crystals, set in a luxurious deep blue stone.
Blue Pearl is quarried in the southwest coast of Norway.
And extracted in large blocks.
These large blocks are then transported to processing plants.
Which is where they are cut into large slabs.
Polished on huge polishing machines under great pressure and using lots of recycled water.
Finally the slabs arrive at our suppliers warehouse by lorry, this is where we chose the slabs using an online directory.
Once we've ordered the slabs they are delivered to our factory. And we can start the manufacturing process.
Cutting the slabs to shape & size on the CNC bridge saw.
Before loading the runs of worktop on to the CNC routing centre.
So items of fabrication like polished sink cut outs and drainer grooves can be manufactured.
We edge profile using an edge profiling & edge polishing machine.
And the last part of the process is finally finishing all items by hand. And sealing before they are taken to the customers house for installation.
Here's the finished kitchen which looks stunning!
It's a Masterclass Kitchen: Sutton Silk Light Grey with Deco Tundra Stone panels, plinth, cornice, pelmet and island units
We manufactured a sawn sink cut out with upstands running around the rear of the blue pearl granite worktops. And a granite window sill above the sink which is always a nice feature.
An ocean blue glass splash back from deco glaze helps to finish off the look.
This kitchen was designed, supplied and installed by the Wadebridge Kitchens team. And you can find them in their beautiful showroom at Polmorla Road in Wadebridge.
We've had the pleasure of working closely with Wadebridge Kitchens for a number of years now. And their attention to detail and quality workmanship is always great to see. Check out the Wadebridge Kitchen website by clicking on the image below:
To find out more about all the options available for your stone worktops, click here – 
Granite & Quartz Worktops
And feel free to pop into see us at our showroom in Par near St Austell in Cornwall. We are open from Monday to Friday from 9 – 4 & on Saturdays from 9 – 2. Although these opening times maybe different during COVID lockdowns. Or ring us on 01726 814466.