So you've made that decision – 'I want to have granite worktops or quartz worktops!'. 'But what's the cost of granite worktops versus cost of quartz worktops?' And there will be several things running through your mind. Which stone should I go for? Is one stone better than the other? How much is this going to cost? Where should I go to purchase the worktops? What company is best? What company is cheapest? Should I go to the cheapest? Should I use someone on line?
Budget
So first of all, let's try and help you understand how much this is going to cost…
For a pretty simple L-shape kitchen with a standard sawn sink cut out and a sawn hob cut out. You will be looking at prices from
£1,300.00
incl vat. This will be for both granite worktops and quartz worktops. For larger kitchens with a breakfast bar/island peninsular or separate island, with up stands, a cooker splash back, a polished sink cut out with drainer grooves and a sawn hob cut out. You will be looking at prices from
£2,600.00
incl vat. Again, this is for both granite worktops and quartz worktops. The above costs will include the standard services from a stone fabricator that you would expect. Supplying the stone, templating, manufacturing and installing your granite worktops or quartz worktops. But you will notice that the above prices are stated as prices 'from'. Which is always frustrating, but it is necessary because kitchens are all different sizes and designs. Plus there are lot's of different stone types and they all cost different amounts. You can pay from
£100.00
/m2 for granite and
£160.00
/m2 for quartz, right up to
£1,000.00
/m2 and beyond. The stone fabricator buys in the granite or quartz in large slabs. These are huge slabs! And with all bespoke manufactured products, there will be an element of wastage. The stone fabricator must factor the cost of the wastage into the job, so the wastage is paid for by you.
The stone that is left over is classed as a remnant piece and is often put in the remnant rack so the stone fabricator can sell it later for a small job. A hearth, a vanity top, a window cill etc. But generally the stone fabricator will charge you at cost for the wastage because they make their profit on it later. So there are a few variable items of work that need to be taken into consideration when your looking to purchase granite worktops or quartz worktops.
Where shall I go?
So next we discuss that niggling little question that everyone will be thinking – What stone fabricator shall I go to?
I am always a great believer in staying local, which often rules out internet companies straight away. The thing that you get with a local company is their willingness to make sure that the job is done right. The last thing a local company wants is bad word of mouth as all local companies thrive off word of mouth.
The large internet companies that promise you a cheap worktop, often aren't any cheaper than your local stone fabricator. And you often end up with problems. These internet companies often sub-contract out the templating which can lead to all kinds of problems. Plus if there's a small issue that needs to be resolved, and a second visit is required, how long will it take for the issue to be resolved?
There are normally a few stone fabricators within a 40 mile radius, so why not go and visit them. I normally find that when I'm looking for a bespoke product, I get that feel good feeling when I go to the right place.
You know what I mean. You walk in and your greeted by friendly sales staff who educate you rather than give you the big sell. They are genuinely there to help. There's no pushiness. When you visit a stone fabricator you will realise the investment that is required to manufacture granite & quartz worktops.
You will then realise the value in the worktop, which I think is important because what you don't want to have in your head is cheap, cheap, cheap. Nice things cost money and there is quite a process in making sure your worktops are installed to perfection.
Good stone manufacturers will have CNC machinery which in this day and age is so important because with CNC machinery you get accuracy every time. And with CNC machinery you can achieve a better quality of fabrication.
To summarise – Use a local stone fabricator with nice helpful sales people, and CNC machinery.
So now for the Stressful bit, choosing the colour!
Before heading to your stone fabricator, think about what colour of worktop you want. And this will have a big impact on the cost of granite worktops versus cost of quartz worktops. The colour theme of the kitchen is so important and because there are so many colours available on the market today, heading to a stone fabricator without considering colours, will be quite
stressful…
You may have over 300 colours to chose from…
A lot of people employ a kitchen company, who's job it is to lead the customer through the various colour options and help chose a colour theme for your kitchen. You can view stone samples in the kitchen showroom right next to the units that you intend to purchase. And it's the job of the kitchen company to lead you through the issues of the cost of granite worktops versus cost of quartz worktops. Which really takes the stress away and allows you to focus on other things.
But kitchen companies will often send their customer to their local stone fabricator to have a look at a larger range of stone samples. And look at larger slabs, which is always important if you want a more characterful stone.
You may not be using a kitchen company and instead your using a friend or kitchen fitter. Or you may be using a trade company like Howdens. Either way, you will be coming into to see the stone fabricator at some point, without much guidance. Which is absolutely fine and dandy, you will be very looked after when you come in and see us. But again, we come back to colour theme and the importance of thinking about it before heading out.
Stone Properties
Now it's not just about colour when choosing your worktop. 
There are many different types of stone &
different
manufacturers in the market place today..
And each manufacturer, especially in quartz & sintered stone, have certain unique features.
It's important to work out what you want from your stone worktops. Every stone has different different properties. Granite & marble offer that characterful appearance, while quartz, Dekton & Lapitec offer something more subtle in their appearance. Some granite's are more porous or absorbent than other types of granite. And quartz, Dekton & Lapitec are water resistant or even water proof. All of these stone types have different strengths, not so much impact strength but compressive strength too.
Quartz is stronger than granite and Dekton is stronger than quartz. The respective properties determine where the stone should be used i.e. worktop, wall cladding or flooring.
A kitchen countertop is a place for cooking, which means that it is exposed to various substances such as water, salt, oil, minerals, acids and other substances. All of these things can cause staining, and it's the porosity of the stone that causes the problem. Therefore, all natural stone must be sealed. Most quartz and all Dekton & Lapitec does not need to be sealed due to it's real low porosity. Next, we take a closer look at various stone materials and compare their advantages and disadvantages. As a manufacturer, it is our duty to bring a material's weaknesses to your attention, not only its strengths. But this will all impact on the cost of granite worktops versus cost of quartz worktops.
Granite Worktops
Advantages: Many colours available, decorative patterns, heat-resistant, pattern and shade vary, easy to clean.
Disadvantages: Porous – Light granite is more absorbent than dark granite.
Suitable for use: kitchens, bathrooms, facades and floors.
Granite is an igneous rock with grains large enough to be visible with the unaided eye. It forms from the slow crystallization of magma below Earth's surface. Granite is composed mainly of quartz and feldspar with minor amounts of mica, amphiboles, and other minerals. If you are looking for character in your worktops, then granite is probably for you. There is a huge choice of granite available in the market place today. Customers can go to a stone fabricator and pick the slab they want. And because no two slabs are the same, it's like choosing a piece of art history for your kitchen.
Due to its volcanic origin, granite is extremely resistant to high temperatures. And because it has good resistance to heat and cold, granite is a perfect material for kitchens. You can place hot pans, saucepans and ovenware straight on the worktop, however, we do recommend the use of a trivet especially with the more characterful granite with large grains as these can sometimes pop out due to heat shock. You will probably have read in many articles that granite will stain easily, and the lighter the granite, the more easily it will stain. These statements are true, so it's important to seal granite and we recommend using Dry Treat Stain Proof which is a micro porous sealant for natural stone and porcelain.
You can view all the necessary information on Dry Treats website here 
www.drytreat.com
Due to Dry Treats unique micro porous technology, the sealant actually lines the capillaries of the stone, so it sits within the stone rather than on top like the old surface sealers used to. This means that you don't have to re-seal your worktops every 6 to 12 months. You can go without re-sealing for many years.

A granite countertop is easy to clean and using hot soapy water is sufficient most of the time. But if you want to clean your worktop with a cleaning product it's best to use a ph neutral product and we recommend using Hanafin Rejuvenata.
Marble In Your Bathroom
Advantages: super decorative with a unique pattern, easy to clean.
Disadvantages: Porous, easily scratched.
Suitable for use: perfect in bathrooms and on facades, less suitable for kitchens.
Marble is a metamorphic rock composed of recrystallised carbonate minerals, most commonly calcite or dolomite. For those who love character in natural stone, then marble can really offer something special.
And you will find that marble is more commonly used in bathrooms, often as a vanity top, bath surround or as a book match feature behind a bath or as shower wall cladding. Using marble in your kitchen as a worktop requires great caution as marble is softer than granite. Marble is easily scratched and the polish is more easily damaged compared to granite. You will probably ready in many articles that marble will stain easily! This statement is true, so it's important to seal marble just like sealing granite. So we recommend using Dry Treat Stain Proof as discussed above. Much like granite, marble worktops are easy to clean and using hot soapy water is sufficient most of the time. But if you want to clean your worktop with a cleaning product it's best to use a ph neutral product and we recommend using Hanafin Rejuvenata. With good care, marble can stay beautiful for years even in the kitchen. Acidic agents should be avoided in the daily cleaning of marble.
Quartz
Advantages: a wide choice of colours, consistent colour ranges, subtle decorative patterns available, non porous, With Silestone's quartz you can even order a quartz sink in the same colour to integrate into your kitchen quartz worktops as shown in the image above.
Disadvantages: does not tolerate high heat and will lighten in colour if placed in direct sun light, it is not UV resistant.
Suitable for use: internal use only, kitchens, bathrooms, floor & wall tiles
Quartz worktops are fabricated from natural quartz, one of the hardest minerals found in the Earth.
Small amounts of glass or metallic flecks are added to create variety, resulting in beautiful worktops.
The advantage with a quartz worktop is that it is a non-porous material, its texture does not allow bacteria to grow and resists against stains making kitchen clean-up easy. For this reason, quartz worktops never need to be sealed. Quartz does not tolerate high heat, so using trivets is highly recommended. But in general, quartz worktops are easy to maintain. To clean quartz surfaces, use warm water and soap or a recommend quartz worktop cleaner. And remember to always consider the cost of granite worktops versus cost of quartz worktops.
Dekton Worktops From Cosentino
Advantages: Good colour choice, decorative patterns available, non-porous, water proof, UV resistant, highly scratch resistant, stain resistant, fire & heat resistant.
Disadvantages: the pattern does not go right through the slab.
Suitable for use: in kitchens, bathrooms, facades and floors.
Dekton employs exclusive Sinterized Particle Technology, a high-tech process which represents an accelerated version of the metamorphic change that natural stone undergoes when subjected to high temperatures and pressure over thousands of years. Sinterized particle technology synthesises truly innovative procedures from the most advanced technology industries. This evolution represents a technological and industrial leap capable of generating a new process, a revolutionary material and a leading product. Electronic microscopy allows us to fully appreciate the material's zero porosity, a consequence of the sinterization and ultra-compaction process exclusive to DEKTON. This zero porosity and lack of the micro-defects that cause tension or weak spots mark the difference as far as DEKTON is concerned. While other surfaces are stain resistant, Dekton is completely Stain Proof. Even the most stubborn stains like wine, coffee, markers and rust can easily be removed from the surface. Since Dekton has extremely low porosity and contains no resins, it is chemically resistant. Drips or splashes of common household chemicals like bleach, drain cleaners or oven de-greasers won't harm Dekton. Dekton is one of the most scratch resistant surfaces on the market and while the slip of a knife won't damage Dekton, cutting boards are still recommended to protect your household utensils.
Lapitec
Advantages: Good colour choice, decorative patterns available, water resistant, UV resistant, highly scratch resistant, stain resistant, fire & heat resistant, acid & alkali resistant, full bodied slabs.
Disadvantages:
Suitable for use: in kitchens, bathrooms, facades and floors.
Lapitec is produced using 100% natural minerals that can be found in granites and porcelain materials. These carefully selected minerals are then processed using sintering technology and machinery exclusively developed by Breton S.p.A. The sintering process involves subjecting particles to very high heat and pressure in order to fuse minerals together. This process requires no binding agents helping to provide Lapitec with colour stability, recyclability and almost zero porosity. Lapitec's composition is 100% mineral with no resin or hydrocarbon based binder components. It's chemistry and mineralogy is similar to a granite but with a tight, cryptocrystalline structure similar to Porcelain.
Fabrication
So now that you are discussing your worktop colour and manufacturer choices with the stone fabricator, we can look at the many items of fabrication on offer…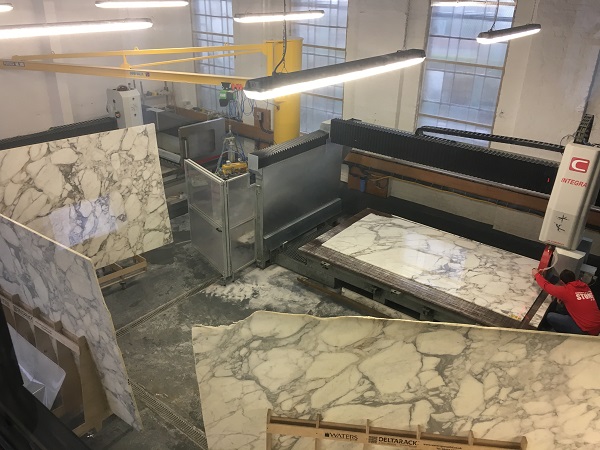 First you will need to hand over your kitchen plan…
Whether it's a professional kitchen plan from a kitchen company or a sketch on a rough bit of paper. It really doesn't matter. We just need to see a plan showing kitchen worktops and their dimensions. Once we see your dimensions we can see how long the worktop runs are, this enables us to discuss and plan the join positions.
Sinks…
All kitchens have a sink and often this is the next item to discuss. Are you planning to have a inset sink (polished sink cut out required)
or an over mounted sink (sawn cut out required).
Silestone offer a integrity sink with alot of their quartz..
Hobs…
You have similar options with your hob. Usually a sawn cut out is sufficient for your hob.
but as always there are options. And for customers that like a slim, stream lined appearance in their kitchen. A hob can now be recessed into the granite or quartz worktop, creating a flat surface with no obstruction.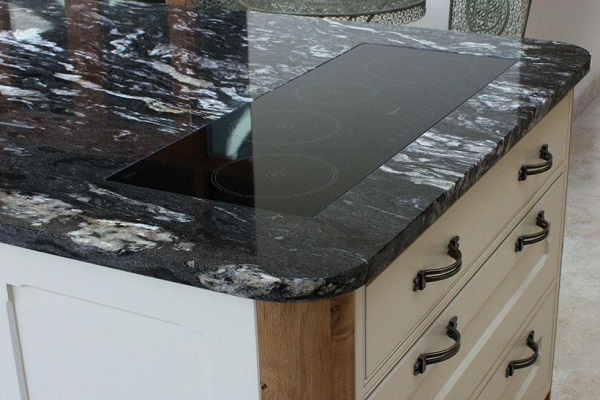 Upstands & Splash Backs…
Other items of fabrication include upstands & splash backs. Upstands as shown below, have become more and more popular.
Or full height splashbacks as shown below…
The trend in the kitchen these days is to have more simple lines, so tiles are becoming out of fashion…
Edge Profiles…
There are a number of edge profiles available on the market today, from simple pencil round edge profiles shown below…
to Ornate OG edge profiles…
And drop down mitre edge profiles…
The more ornate the edge profile, the more expensive it will be. 95% of quartz worktops and granite worktops are sold with a simple pencil round or small bevel edge profile. This type of edge profile is very modern and contemporary at the moment, nice and simple.
Summary of cost of granite worktops versus cost of quartz worktops
So as you can see, there are lot's of things to consider when purchasing granite or quartz or sintered stone worktops. But it's easy to go through the motions as long as you go to a nice helpful local fabricator or kitchen company. Make sure the fabricator uses CNC machinery and doesn't give you the big sell. Trust the fabricator/kitchen company and let them give you advice and take you through the process. At the end of the day your stone worktops will outlast you as long as you look after them, which is why it's important to get it right. We at Everything Stone in Cornwall have a really nice showroom for you to visit, lot's of nice displays and friendly staff. We are open on Monday to friday from 8 – 5 & on Saturdays from 9 – 2. To view worktop jobs from Everything Stone click here –
Everything Stone Worktop Jobs